Australia Temporary Fence, also called construction hoarding temporary fence is used for fencing off construction and industrial sites and events. They protects against theft and vandalism, keep children and unwanted persons out of dangerous site and enables access control of visitors to events.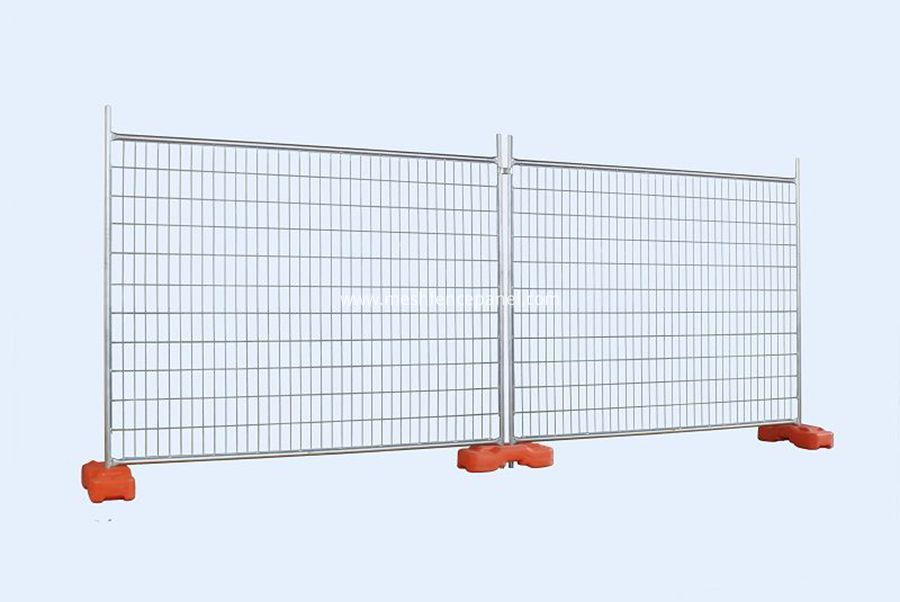 Specification
Wire diameter

3.0-5.0mm

H*L

2100x2400, 1800x2400, 2100x2900, 2100x3300mm, etc

Frame pipe O.D.

25, 32, 38, 40, 42, 48, and 60mm

Opening

Chain link mesh: 50x50, 60x60mm, etc.

Welded mesh: 75x75, 75x100, 60x150mm, etc
Accessories:
Plastic base
600mmx220mm x 160mm, weight about 30kg after filled with cement.
550mm × 250mm × 130mm, weight about 28kg after filled with cement.
600mm x 220mm x 150mm, weight about 14.25kg after filled with cement.
Clamps
Clamps 32mm OD 72mm centre to centre
32mm OD 89mm centre to centre
32mm OD 100mm centre to centre
More details
Hot dipped galvanized finished
With Accessories
Packaging & Shipping
Fence panel: film+wood/metal pallet
Accessory: small plastic bag carton box
There are 4 metal corners to keep the pallet more safety
Features:
This range of galvanized steel wire fence is easy to install, either in-ground or above-ground, without the need to dig holes or damage the landscaping on which the event is held.
Guaranteed long-term use without rusting
Allow repeated use, rental, or resale
100% Australian standards compliant
The horizontal pipes of the temporary fence are smashed flat to withstand higher loads.
Application
Temporary fence panels are used for Home perimeters, playgrounds, school playing fields, recreational grounds, also suitable for general security and mining roof long way support.