Double Wire Fence also called twin wire mesh fence, uses high quality low carbon stainless steel wire as raw material. Double wire fence is welded with one vertical wire and two horizontal wires; this can be strong enough, compared to the normal welded fence panel.which is a solid yet inconspicuous mesh fencing system, typically used to protect the perimeter of commercial, industrial, educational and sporting facilities.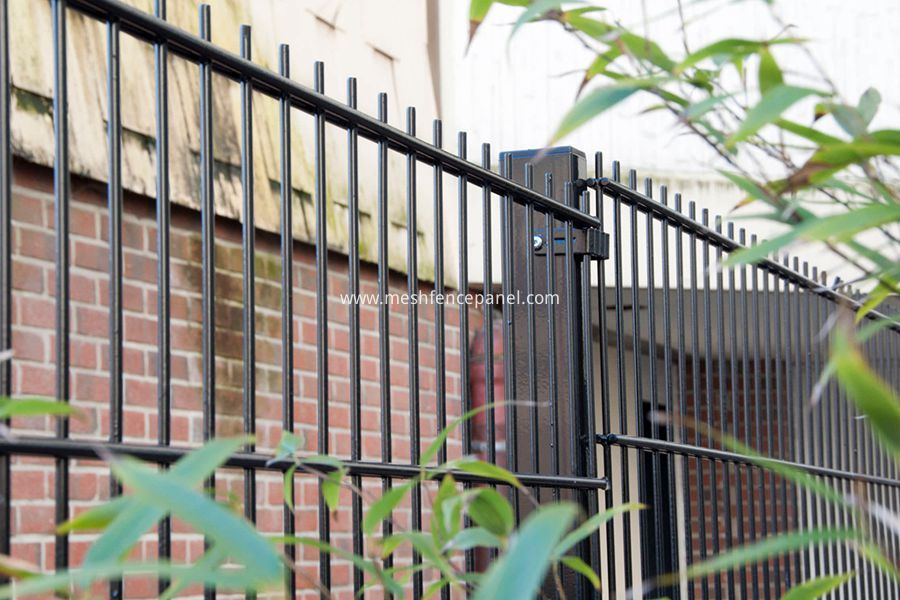 Details of Double wire fence:
Technical characteristics
Material: Heavy low carbon wire, heavy mild steel wire, stainless steel wire
Wire Dia.: 2x6mm+5mm, 2x8mm+6mm
Mesh Openings: 50*200 mm, 55*200 mm, 50*100 mm, 50*150 mm, etc.
Fence Width: 2500mm
Fence Height: 630, 1030, 1230, 1430, 1630, 1830, 2030, 2230, 2430mm
Regarding to the colors, please let us know the No. of RAL, we can do it as your requirement.
Regarding to the powder, we only use the world's best-known powder -- Akzo Nobel. After powder coated, the Double wire fence will be very smooth, bright, have great corrosion resistance, outdoor use year can reach 15 - 20 years.
RAL7016, 9005, 6005 are most popular.
Fastener System and Accessories
Top with metal clip or plastic clip; Bolts or rivets combined the post with panel together, also, flat or special steel card is available. Meanwhile, it also can be designed according to customer's detail requirement.
With a wide range of beautifully crafted accessories to choose from, which can satisfy your different effect demand. Secure-net will be your ultimate to go-to designer.
Installation
The installation of double wire fencing panels requires posts to which the panels are riveted or bolted. Steel clamps made from flat steel bar fasten the panels to the posts with self-locking nuts. Fastenings can be manufactured in bespoke designs if required.
Application
used for the protection of objects with high security requirements, such as military warehouses, stadiums, shopping malls, railway. It is also usually as fencing wall for industry, public and administrative buildings, supermarkets, schools, sports, parks, and playgrounds facilities.
Features:
1. Strong and reliable security
2. Versatile bottom option
3. Attractive appearance
4. Vandal resistant
5. Cost effective
6. Low maintenance ideal
Advantage:
1) Quality Guarantee: wire diameter, mesh size, dimension and accessories will be guaranteed.
2) Superior surface treatment: inner wire and post in galvanized, outer is PVC coated, protect the metal against rusting.
3) 17 years production experiences: our factory has founded since 2000, with high reputation of products and service.
4) Free sample: we provide competitive price and free samples to every customer.
Packaging&Shipping for Double wire fence
1)It has rubber mat at the bottom of the pallet to avoid the pallet destroyed the panels.
2)It has 4 metal corners to keep the pallet more strong.
3)wooden plate on top which can protect the fence panels avoid being crushed by other pallets.
Ad